Interested in applying for a Bank Islam credit card?
Bank Islam credit cards (BICC) are Shariah-compliant and are entirely free from Gharar or Riba. Tawarruq is used in the bank's operations for their payments and transactions.
The cards are offered to Muslims and non-Muslims in Malaysia and offer great perks and rewards for every kind of lifestyle without many conditions.
However, note that these cards follow the Shariah concept and only accept charges from Halal merchants.
This article will help break down and compare all the credit cards offered by Bank Islam to help you choose the best that will meet your needs.
Features and benefits of a Bank Islam credit card
Most Bank Islam Credit Cards have more similarities in perks and benefits than differences. For whichever card you apply with Bank Islam in Malaysia, here are some standard perks:
TruRewards Loyalty Program lets you collect points for every ringgit spent. Earn your way to redeem gadgets, home appliances, and service benefits as you gain 1 TruPoint for RM1 spent on local and overseas retail purchases.
Annual fee waiver is almost guaranteed with Bank Islam cards as it only requires you to swipe 12 transactions per annum.
Competitive cash withdrawal fee where cardholders can perform cash withdrawals up to 50% of their financing limit. Charges cost only 2.5% or RM12 (whichever is higher).
Low-profit rate starting at 13.5% for purchases and balance transfer transactions.
Flexible payment plan from 3 to 36 months payment terms at zero interest when you spend at selected halal retail merchants.
Free takaful coverage based on a Tawarruq contract that lasts for three years. Bank Islam cardholders can also use their cards as a medium to make Zakat contributions.
Discounts for Mail Order Telephone Order (MOTO) & Easy Payment Scheme
Bank Islam credit card with low entry
1. Gold Visa & Mastercard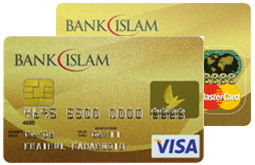 Minimum annual income: RM24,000
Annual fee: RM130 for primary card | RM60 for supplementary cards
Bank Islam Gold Visa and Mastercard is a solid choice for young adults at the start of their careers or users who are looking for a standard card.
You can easily apply for this card as long as you meet the monthly income of RM2,000 and start building your credit score.
It is a good first credit card and offers all the standard perks of a Bank Islam card, which include rewards points, an annual fee waiver, and flexible payment plans at zero interest.
Plus, you also get a complimentary Group Family Takaful coverage and a 40% discount on will writing fees.
Compared to most credit cards with a minimum interest rate of 15%, the Bank Islam Gold Visa and Mastercard offer interest rates as low as 13.5%.
This Bank Islam card is recognized worldwide, and you can perform emergency cash withdrawals while travelling overseas.
Bank Islam credit card for travel and avid shoppers
2. Platinum Visa/ Mastercard

Minimum annual income: RM48,000
Annual fee: RM388 for primary card | RM150 for supplementary cards
You can apply for a Visa or Mastercard, but the Bank Islam Platinum cards are the best for shopping and travel privileges.
The card allows you to earn TruPoints without any conditions or maximum cap. Whether for petrol or shopping online, you can get a 1x reward point for every ringgit spent on all local and overseas retail expenses.
You can even sign up for supplementary cards and have your family members collect points to redeem great rewards and prizes from the bank.
Though you'd need to pay for the supplementary card fees, the annual fee for the principal cardholder can be automatically waived when you make 12 transactions a year.
In addition to the free Takaful coverage, the Platinum Visa credit card also gives you travel coverage of up to RM1 million and 24/7 Visa Concierge service.
The best part is anybody can become a Platinum Visa credit card owner as long as they meet the minimum monthly income requirement of only RM4,000.
3. Visa Infinite Credit Card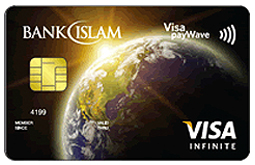 Minimum annual income: RM100,000
Annual fee: RM777 for primary card | RM333 for supplementary cards
Likewise, the Visa Infinite credit card has everything that the Platinum credit card offers, including flexible payment schemes, rewards points program, and an annual fee waiver.
What's unique about Visa Infinite is that it has an Easy Payment Plan (EPP) where you can get a 2.5x financing limit of your monthly salary.
For travellers, you will also get three times free access to Airport Independent Lounge at selected Premium Lounge Networks in Malaysia and Singapore.
You can also enjoy the comfort of 24/7 personalized customer services that can provide travel assistance. All you need to do is contact the World Service Concierge, who can help you source tickets, make reservations, and provide emergency assistance.
Plus, the Takaful coverage for travel is much higher than the Platinum at RM2 million for any personal accident, flight or luggage issues.
Moreover, you will also be protected under the Purchase Protection Takaful, which insures your purchased items during travel from loss or damage for RM10,000.
4. World Mastercard Credit Card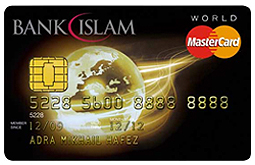 Minimum annual income: RM100,000
Annual fee: RM777 for primary card | RM333 for supplementary cards
Generally, the World Mastercard offers the same perks and benefits as Visa Infinite, but it is on an invitation basis only.
Bank Islam credit card for business
5. Visa Infinite Business Credit Card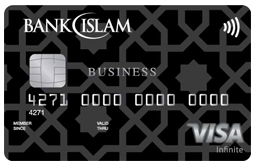 Annual fee: Both primary card and supplementary cards are free for life
A credit card designed for any business to fund their staff's business travel expenses, the Bank Islam Visa Infinite Business offers the same perks as Visa Infinite.
You will get the same RM2 million Takaful coverage and enjoy 3x complimentary access to selected Plaza Premium Lounge in Malaysia and Singapore every year.
This will allow your employees to go abroad with peace of mind, but there are also special features exclusive for businesses:
VAT Refund Solution – a partnership between Bank Islam and Taxback International that can reduce the Value-Added Tax (VAT or GST).
Enhanced loyalty program – a unique loyalty program for businesses to collect air miles or points for every hotel booking made through Kaligo Business Plus, which has over 425,000 hotels worldwide for corporate clients.
Purchase Protection Takaful Plan that can compensate companies up to RM10,000 if an employee exploits their card usage.
Limited-edition Bank Islam credit cards
6. Visa FIFA-themed Credit Card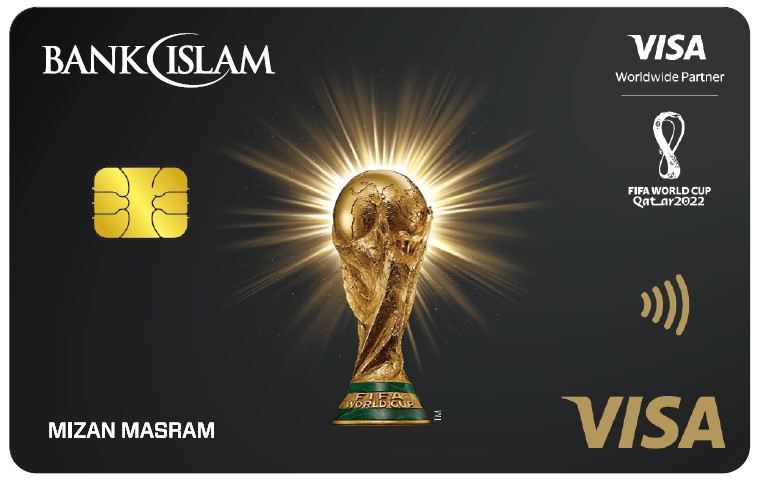 Condition: Subject to availability
A Bank Islam credit card introduced in 2022, the FIFA-themed credit card is subject to availability and can only be issued while stock last.
It sports an eye-catching design for football lovers, but that is not all.
Those who apply and activate the card can stand a chance to win a round-trip flight ticket to watch the live FIFA World Cup Qatar 2022TM.
Cardholders can also win attractive monthly prizes and rewards consisting of limited-edition FIFA 2022 merchandise, cashback, or sports vouchers.
For more information, simply visit the campaign.
Get your kad kredit today at Bank Islam
That's the complete list of Bank Islam credit cards in Malaysia that were offered in 2022. Do note that all credit cards from the bank are Shariah-based and can only be used for halal transactions.
It is also essential to understand that terms like free takaful coverage can differ and how to prevent annual fees from being charged.
Generally, most Bank Islam credit cards work similarly and share common privileges.
So, choosing the right BICC is really up to your monthly salary and if you are looking for a more comprehensive takaful coverage or airport lounge access.
Check the banks near you if you have any more inquiries. Otherwise, you can contact customer service online to fill in an online form to apply for your BICC today.