The 5Cs are said to be necessary for success in life: cash, car, credit card, condo, and career. Of course, immense responsibility also comes with those great Cs.
Yup, we are discussing house loans, credit card loans, and auto loans. In addition to this, there are additional loan categories to take into account, such as personal and student loans.
The fact that our outstanding financial commitments can be combined into one loan, namely our housing loan, is something that many of us are unaware of.
Read on to find out if it's a good idea to consolidate all your loans.
What is debt consolidation?
Image source: The Latest News

The outstanding credit card balance or personal loan might be consolidated with the use of a refinancing option called debt consolidation. Through this, you may be able to lessen your monthly payment obligation and improve your cash flow management.
How does debt consolidation work?
Debt consolidation plan is the practice of employing several financial options to settle liabilities and other debts. If you have multiple types of debt with outstanding balance, you can apply for a loan to combine them into one commitment and pay them off. The new consolidated debt is then subject to payments until it is fully repaid.
Benefits of Debt Consolidation
1. Decrease Debt Service Ratio
Image source: Property Guru
Simply defined, "a method used by banks to determine whether or not you can afford the loan you're requesting for" sums up the DSR definition.
A low DSR is desirable to a bank since it suggests that you will be able to make timely payments for your monthly instalments and that there is less chance that you will go into default.
Consolidating your debt is better than just refinancing your property (provided if you have one) as the bank will not count other debts such as car loans, personal loans, credit cards and more into the DSR.
2. Lower Monthly Commitment
Image source: Freepik
Debt consolidation makes it simpler for you to make monthly payments on just one loan account rather than several, while also lowering your entire commitment.
A longer loan period, a lower interest rate, or a combination of the two may result in reduced payments.
Banks with Debt consolidation Malaysia
1. Bank Rakyat Personal Financing 
Image source: Twitter

For those working in the public and private sector, save more by settling your debts via a single instalment plan with fast approval and profit rate as low as 2.48% per annum.
Who is eligible to apply?
For debt consolidation, Bank Rakyat Personal Financing-I is open to anyone.
Anyone residing in Malaysia and employed in either the public or private sector is eligible to apply for Bank Rakyat Personal Financing-i for Debt Consolidation (Pembiayaan Peribadi-i Penyatuan Hutang).
You must fulfil the minimal requirements, which include the following:
At the time of application, you must be at least 18 years old and no older than 60. You must also make at least RM2,000 per month.
Is it possible to combine my debts from many accounts?
Definitely, yes. You can pay off your debts owed to credit companies, cooperatives, and other lenders for funding. Multiple accounts may be settled at once.
How much can I borrow?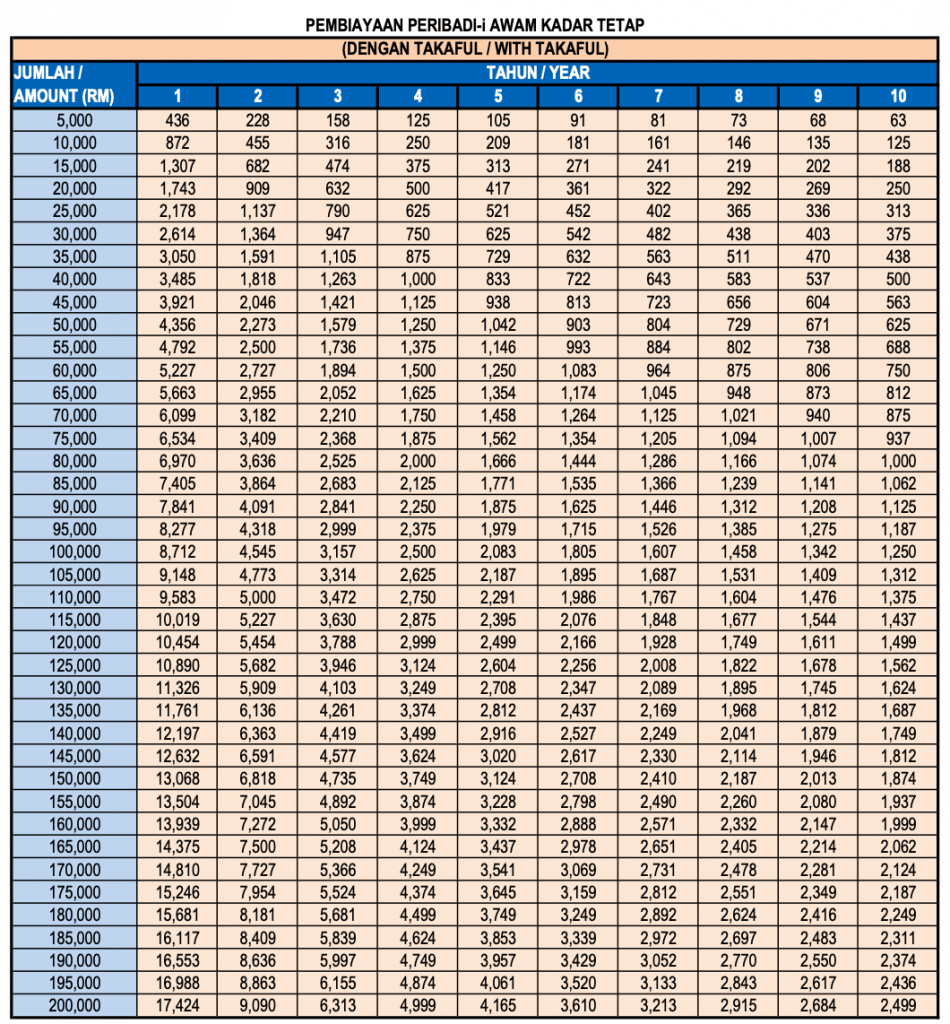 Image source: eCentral
A minimum of RM50,000 can be borrowed for a maximum of 10 years at a flat rate of as little as 2.48% annually.
Are there any fees or costs I should be aware of?
For this Islamic personal loan, you simply need to pay a Wakalah Fee (inclusive of Brokerage Fee), which is equal to 0.5% of the total amount borrowed.
2. HSBC Amanah Personal Financing
Image source: Pinjaman Peribadi
HSBC Amanah Personal Financing-i personal loan is an unsecured personal loan based on the Shariah Wakalah concept based on Commodity Murabahah. The advantage of this concept is that this loan is offered with a fixed profit rate. Since this is an unsecured loan, the applicant does not need to submit any collateral or introduce a guarantor to apply for this loan.
Who is eligible to apply?
You must have been an HSBC/HSBC Amanah customer for six months or more in order to apply for debt consolidation. You can benefit from flat rates starting at only 7.5% p.a.
Also Malaysians or Malaysian PRs between the ages of 21 and 60 who make at least RM3,000 per month are eligible.
How much can I borrow?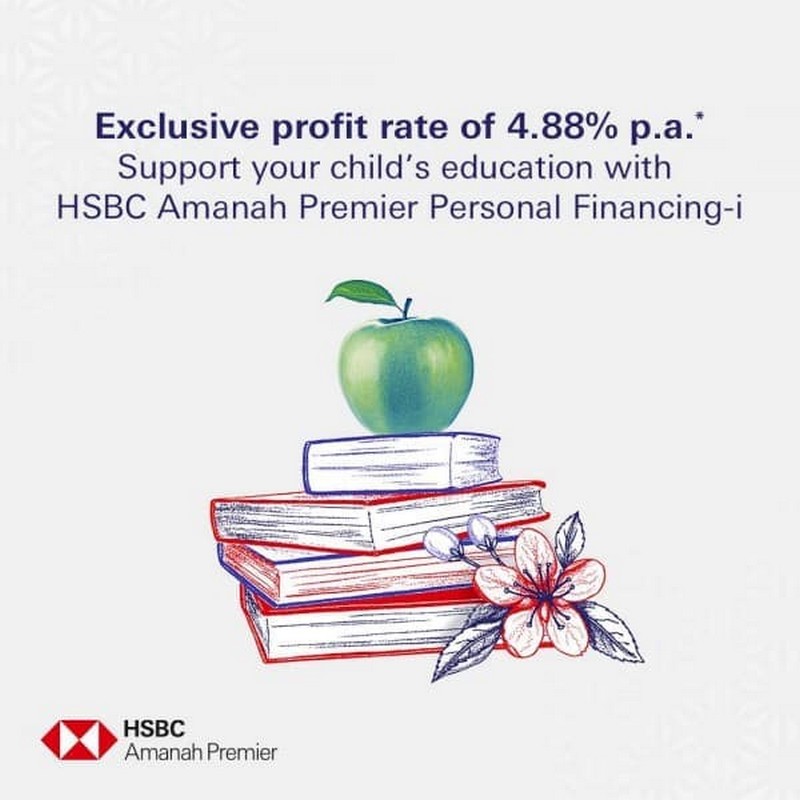 Image source: EverydayOnSales.com
The loan amount allowed for HSBC Amanah Personal Financing-i is anywhere from RM6,000 up to RM250,000 with a financing period of up to 7 years. The annual profit rate charged is reasonable with a fixed rate starting from as low as 4.88% p.a.
Are there any fees or costs I should be aware of?
This loan is particularly beneficial as there are no stamp duty fees, processing fees and early settlement fees. However, there will be 1% late payment fees from current outstanding amount.
3. Citibank Debt Consolidation
Who is eligible to apply?
Malaysians or PRs working in Malaysia between the ages of 21 and 60 who make at least RM48,000 annually are eligible. You must also be holding any bank's credit card / home loan / personal loan / car loan / overdraft for more than 24 months.
How much can I borrow?
Image source: Youtube- Citibank
The loan amount allowed for is anywhere from RM5,000 up to RM120,000 for new customers while existing customers can enjoy a loan amount of up to RM150,000 with a financing period of up to 60 months. The annual interest rates range from 6.45 to 7.2%.
Are there any fees or costs I should be aware of?
As for this debt consolidation loan, there will be a 0.5% of stamp duty fees of approved loan amount, RM200 or 3% of outstanding balance, whichever higher, if loan is settled within first 2 years or before reaching half the tenure, whichever earlier.
There will also be 1% late payment fees from current outstanding amount.
Will consolidating my debt affect my credit score?
Image source: Property Guru
Your credit score may eventually improve with a consolidation loan. Early loan principal repayment can lower interest payments, which will cost you less money overall. As a result, your credit score may increase, making you more appealing to potential creditors such as other financial institutions or other banks.
What are the disadvantages of debt and personal loan consolidation?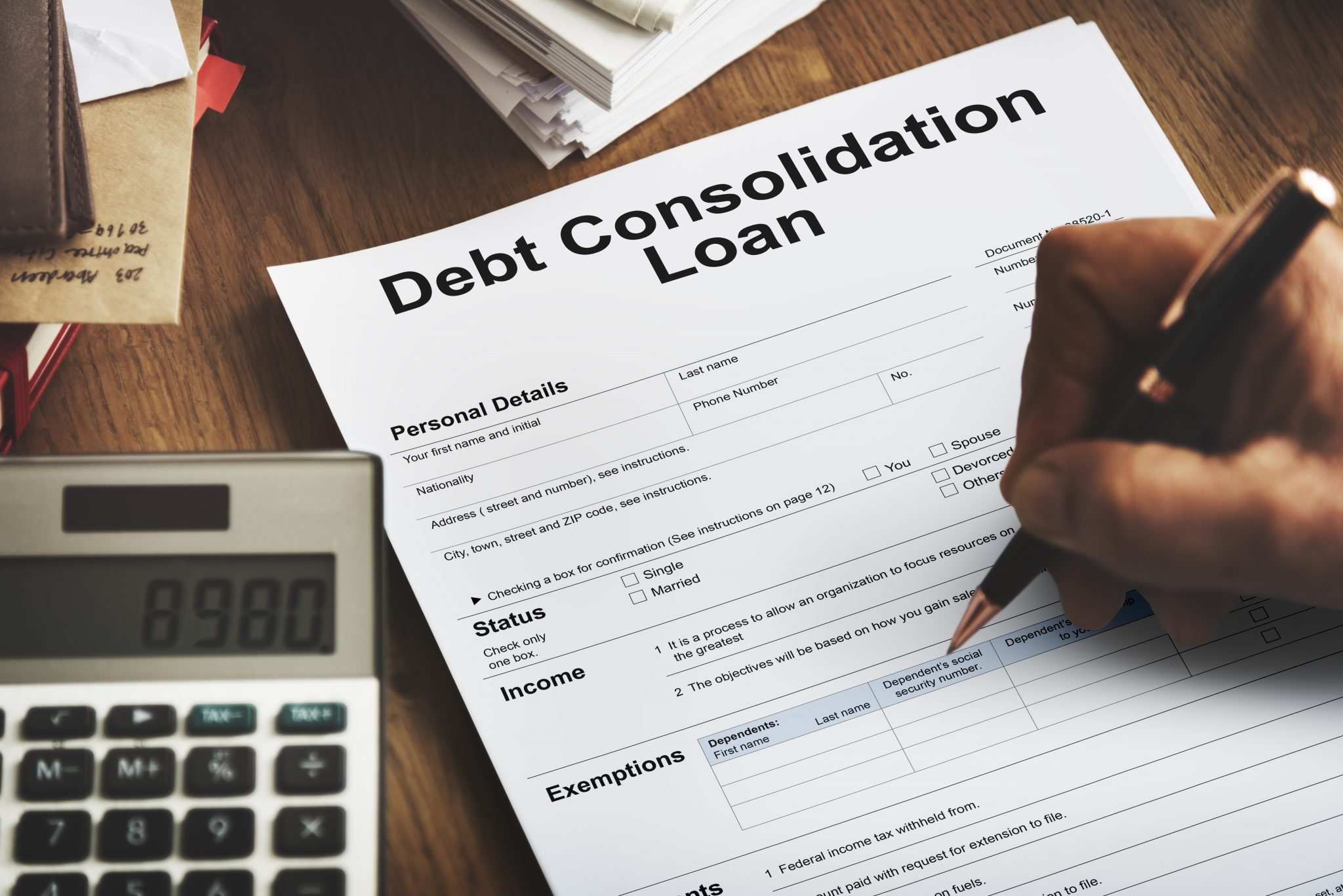 Image source: LQD Business Financing
Going deeper into debt
Not saving in interest rate
Caught in a consolidation scam
Jeopardizing your property or retirement
Consolidate Personal Loans and Debts the Smart Way
Image source: U of I Credit Union
Using a credit card or best personal loans, you can combine your debt wisely after making a budget to prevent further overspending. If you adopt this strategy, consolidating your debts can be an excellent first step toward debt relief and a better financial future.