Are you looking to apply for your first black card? We have seen it on-screen in movies and TV shows on how cool it is when you pull out your black card.
It's no wonder as it is a premium credit card for the mass affluent, symbolising wealth with a much higher credit limit that allows you to spend more.
What is a premium credit card?
Whether you call them black cards or premium credit cards, these luxury cards are designed for high-net-worth individuals.
When it comes to the idea of a black card, it usually refers to the luxe American Express Centurion card, which has become a symbol of the rich due to its exclusivity.
Though certain black cards are indeed exclusive for the mega-rich and available only on an invitation basis, there are also black cards you can apply.
There is a higher threshold to applying for these cards, like expensive credit card fees and higher annual income requirements.
But at the same time, you can expect special perks and exclusive rewards that other standard and lower-end credit cards just can't match.
What to consider when choosing a black card Malaysia?
Before you get too excited about joining the exclusive club of black cardholders, here are some aspects to consider when looking for the right premium credit card.
Annual fees – Not every credit card charges an annual fee, but this is the fee you pay yearly for the benefits that come with your credit card.
Rewards points -Banks offer various reward schemes to encourage users to spend. Earn cashback rewards or points for every ringgit you spend to redeem gifts or Airmiles.
Payment and credit limit – Certain credit cards offer payment plans that allow you to convert retail purchases to installments over a fixed term.
Benefits and perks – Card issuer offers discounts on online and retail purchases, introductory rewards, complimentary access to airport lounges, or golf privileges.
Different banks offer different perks and rewards with various conditions, so make sure you understand your needs and read the fine print before submitting your application.
Here is a simple shortlist of the best premium credit cards in Malaysia and their application criteria and benefit highlights.
Best Premium Credit Cards in Malaysia
1. Citi Prestige MasterCard
Minimum annual income: RM192,000
Annual fee: RM1,000 for principal card | Free for supplementary cards
Interest rate: 15% p.a.
Balance transfer rate: From 5.32% p.a.
First in our top pick is the Citi Prestige MasterCard. It is one of the best premium credit cards for affluent traveler who loves the finer things in life.
We highly recommend it for its unrivalled travel perks and exclusive privileges that no other cards can match, including:
Relationship bonus based on the number of years you have been with Citibank.
Complimentary one-night stay at an international hotel and resort.
Complimentary limo rides home from KLIA when you swipe 3x overseas.
Personalised and 24-hour global Citi Prestige concierge service.
Citi prestige priority line and access to exclusive events by invitation.
Premium travel insurance protection up to US$500,000.
Not just travelling, you will get great deals and discounts when you use your Citi credit card, whether it is for dining, shopping, or lifestyle.
You can also convert your purchases to 0% interest instalments for as low as RM500 and stretch your payments over 6 to 24 months.
For new customers of the bank, you will also receive a generous welcome bonus of 250,000 Citi Rewards points when you have spent RM240,000 in total.
However, getting the Citi Prestige MasterCard can be a little difficult as you must have a minimum monthly salary of RM16,000.
2. UOB Visa Infinite Card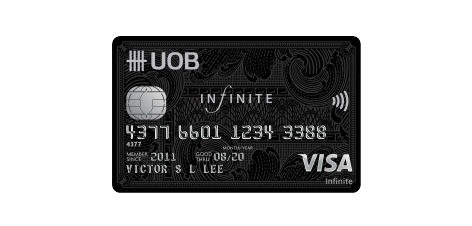 Minimum annual income: RM120,000
Annual fee: RM600 for principal card | RM300 for supplementary cardholder
Interest rate: 15% p.a.
Balance transfer rate: From 0% p.a.
Likewise, the UOB Visa Infinite Card is designed for affluent travelers who crave comfort, convenience, and luxury when they travel.
However, it is made only for the frequent and discerning traveller who knows how to maximise their credit card use.
You can get 8x UNIRinggit points, but only when spending in the foreign currencies of SGD, JPY, and THB. Other overseas purchases and local dining spending of more than RM1,000 a month will also get you 5x reward points.
Besides exchanging these rewards points for gifts, you can enjoy double air miles redemption on your birthday month with Malaysia Airlines Enrich, Singapore Airlines Krisflyer, and Cathay Pacific Asia Miles.
The travel perks don't stop there. Cardholders can also get complimentary airport lounge access, airport dining, limousine services to KLIA, and more.
Plus, new customers can also get 50,000 UNIRinggit from the start when they spend a minimum of RM5,000 within 60 days from the card approval dates.
3. Affinbank World MasterCard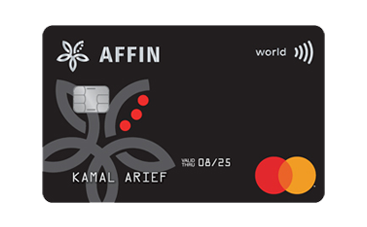 Minimum annual income: RM80,000
Annual fee: RM500 for principal card | RM400 for supplementary cards
Interest rate: 15% p.a.
Balance transfer rate: From 0% p.a.
As long as you earn RM6666,67 a month or RM80,000 in annual income, the Affinbank World MasterCard offers a lower entry to become a premium credit card holder.
Though it has a more accessible entry compared to other cards on the list, its benefits and perks are by no means subpar.
A unique feature of the Affinbank World MasterCard is that it offers personal accident insurance of up to RM100,000 in the event of an injury, disability, or death of the cardholder.
The card offers complimentary green fees and exclusive access to the finest golf courses in the country and selected Southeast Asian countries.
You can also get access to Plaza Premium Lounges in Malaysia and selected countries to relax when waiting for your flight abroad.
Likewise, you can get 3X AFFIN rewards points for overseas retail transactions and 1X AFFIN rewards points for local retail transactions.
These perks can technically be free. When you activate your World MasterCard, you can get your annual fee waived for both the primary and supplementary cards in the first year.
Subsequent years can also be waived automatically when you use your card on a minimum of 12 retail transactions per annum.
4. Standard Chartered WorldMiles MasterCard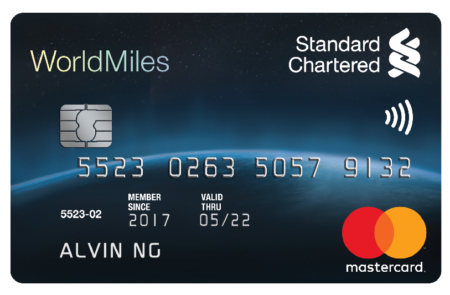 Image Source: Standard Chartered
Minimum annual income: RM90,000
Annual fee: RM600 for principal card (Free for the first year) | Free for supplementary card
Interest rate: 15-18% p.a.
Balance transfer rate: From 5.99% p.a.
You can go beyond the ordinary with Standard Charted premium credit cards, and the World MasterCard in particular, if you love to collect Airmiles.
The World MasterCard makes points collection an easy game, offering 1X WorldMiles points for local retail spending and 4.5X WorldMiles points for overseas transactions with every RM3 you spend without the cap.
For each point you earn, you can redeem for air miles from AirAsia BIG, Malaysia Airlines Enrich, Singapore Airlines Krisflyer, and Cathay Pacific Asia Miles for your next getaway.
You also get special travel privileges, including unlimited complimentary access to Plaza Premium Lounge in KLIA and KLIA2, which is worth RM168 per entry.
Plus, your ride home from KLIA and KLIA2 can also be free with up to RM80 cashback on your Airport Limousine or KLIA Ekspres (ERL) ride if you meet the conditions.
As a standard Chartered credit card holder, you get to live the good life with value deals and exciting privileges at over 4,000 outlets in Malaysia and across Asia.
5. RHB Visa Infinite Credit Card
Minimum annual income: RM150,000
Annual fee: Waived for life for both principal and supplementary cards
Interest rate: 15% p.a.
Balance transfer rate: From 4.88 p.a.
If you are a golfer who likes to travel for the putt, the RHB Visa Infinite is another credit card you'd want to consider.
The credit card offers golf privileges where you can enjoy complimentary tee off at selected golf courses in Selangor and Penang like Kota Permai Golf & Country Club, Glenmarie Golf & Country Club, Penang Golf Club, and the list goes on.
When you travel using Visa Infinite, you can also rest assured that you will be covered with complimentary travel insurance with an attractive coverage of up to RM2 million.
Plus, Visa Infinite also has something special every month.
For the first 1,000 cardholders every month, you can get unlimited access to Plaza Premium Lounges in Malaysia and Singapore all year round.
With each swipe of your RHB Visa Infinite overseas, you will also get 5X reward points for every ringgit spent.
As for local purchases, RHB rewards you with 1X reward points, but note that this does not cover petrol transactions, charity, cash advances, and payments to government bodies.
However, the best part is all these reward points perks are without conditions, and you don't have to worry about paying an expensive annual fee.
If you are eligible, the bank may also invite you to upgrade to RHB Premier Visa Infinite credit card that offers up to 8x reward points for overseas shopping.
6. AmBank Visa Signature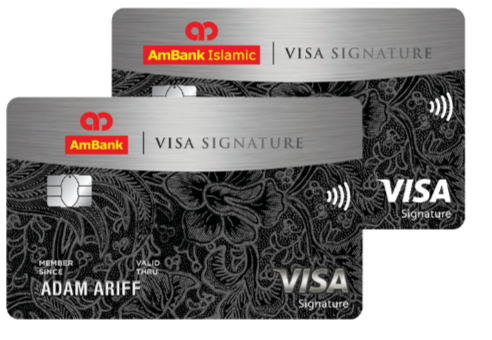 Minimum annual income: RM80,000
Annual fee: Free-for-life (no conditions attached for principal & first 3 supplementary cards)
Interest rate: 15% p.a.
Balance transfer rate: From 0% p.a.
If you are looking for a card that offers excellent travel perks and lifestyle privileges, the AmBank Visa Signature is a black card you can consider.
Enjoy 5x airport lounge access to unwind in the comforts of Plaza Premium Lounge and Club Marriott Malaysia Annual Membership privileges that give huge discounts on hotel rooms and dining in Malaysia and the Asia Pacific.
With this card, travel with an absolute peace of mind knowing that you are protected with AmBank AXXESS COVID-19 Insurance Programme and Takaful coverage that has a range of up to RM1 million when the full fare of airline tickets is charged to the card.
The best part is you don't need to pay a hefty annual fee for the service as it is waived for life on your primary card and first 3threesupplementary cards.
AmBank also offers every cardholder the option to convert retail purchases into affordable monthly installments for up to 24 months, though this comes with an interest rate.
For every ringgit spent, you can collect 1X AmBonus Points for local retail purchases and 3X the rewards when spending overseas.
With these AmBonus Points, you can convert them into Air Miles to redeem free flights for your next getaway with over 50 airline partners, including Enrich, Singapore Airlines Krisflyer, and AirAsia Big.
7. UOB Lady's Solitaire MasterCard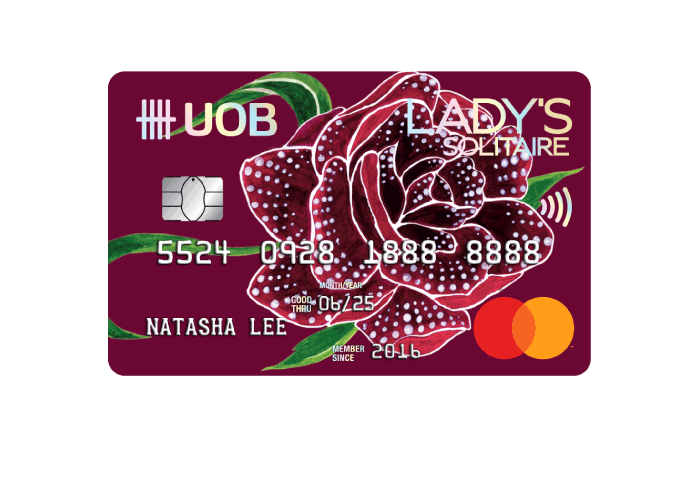 Minimum annual income: RM100,000
Annual fee: RM300 for principal card | RM30 for supplementary cards
Interest rate: 15% p.a.
Balance transfer rate: From 0% p.a.
Not all black cards are black. A premium credit card dedicated to women, the UOB Lady's Solitai e MasterCard is designed in red for the elite working women who love to shop.
Ladies can look forward to getting rewarded for their fashion and beauty spending with 10 UNIRinggit points for every ringgit they spend, whether online purchases or retail.
Plus, for more expensive purchases of luxury designer pieces at over RM2,000 in a single receipt, you will also have the option to pay in installments for 6 or 12 months at 0% p.a.
Meanwhile, shopping for groceries and overseas purchases paid in foreign currencies can get you 5X UNIRinggit rewards points.
With these accumulated points, it works as well as cash when you use it with participating merchants of the SMART$ Rebate program.
On top of its fabulous reward program, UOB Lady's cardholders are also entitled to a few insurance privileges.
With a UOB Lady's savings account, you will also automatically get up to RM600,000 for six types of female cancer coverage.
If you pay for your flight travel ticket with your credit card, you will qualify for a travel insurance plan that covers accidents and inconveniences worth RM500,000.
One thing about the UOB Lady's card is that it is strictly for women Men cannot apply for this card, even as supplementary cardholders.
Compare and choose the right black card
Now that you have a good idea about black cards in Malaysia, a great way to choose the right card is to consider your day-to-day needs.
Considering the minimum requirements and perks, you may have a few shortlisted options, and the following action is to review if the card benefits match your lifestyle.
If you want to collect air miles, UOB Visa Infinite Card might be your card. Or perhaps you are a woman who loves shopping for the latest fashion trend; you might want t consider getting the UOB Lady's card.
Whatever your needs are, please read and understand the card's fine prints and conditions to maximise the card to enjoy all its cashback, rewards, and benefits.